New Animated Playbook (Create an unlimited number of play files and plays)
You can easily create unlimited plays with over 1000 steps per play. With each step you can make any or all players move in any direction. Just drag-n-drop your players anywhere and press Save. Press Add to create more steps for each play. It's so easy that anyone can create complex plays in minutes.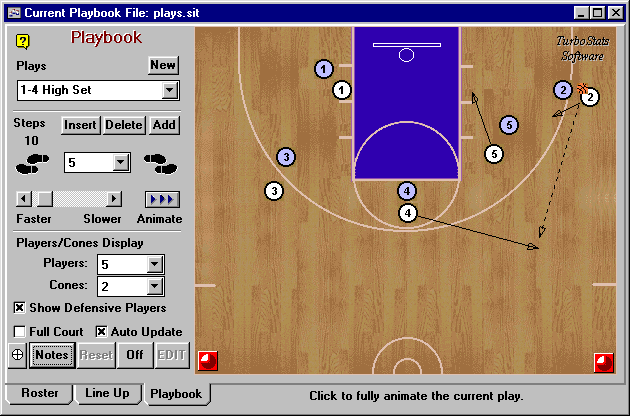 Playback can be paused at any point by pressing the spacebar and you can step forward or backwards through plays
You can set how many players and cones you want displayed for each play. You can also turn on/off the display of the defensive players.
Press the Lines button and lines and arrows are automatically created for you. Defensive lines can be toggled on/off.
Positions can be displayed as Symbols, Numbers, or Animated Players. You can easily create full or half court plays and add notes for any step in any play. Each play file can contain more than 1000 plays and you can create as many different play files as you need. You can also share play files with other TurboStats users.
Printing: Greatly improved from version 4.0
Any play can be printed in color or bw
Up to 9 steps or plays on one page
Sample Scanned Printout (image quality reduced for demonstration only)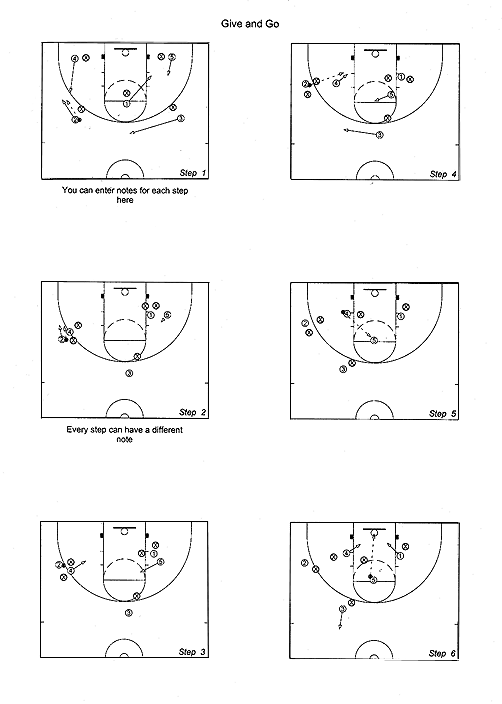 We guarantee you won't find an easier or more affordable playmaker on the market.
Main Screen Career Stats Animated Playbook Drag & Drop Court Layout Game Form Stat Viewer Stat Filter Electronic Order Form