TOP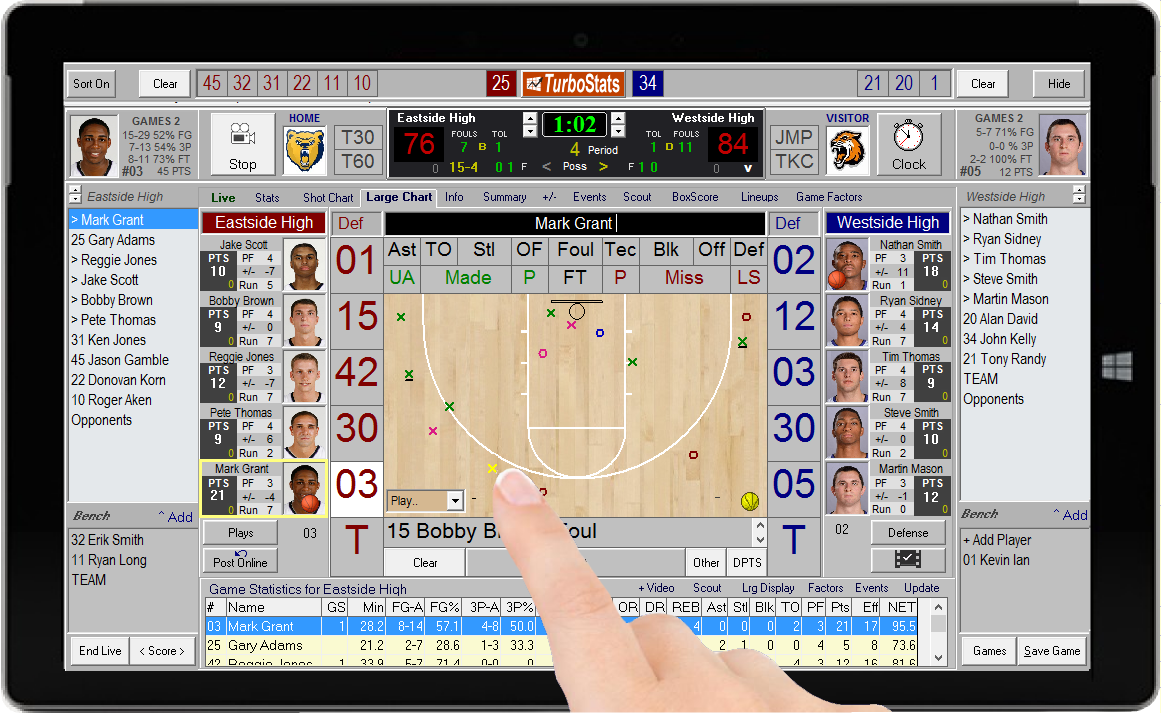 We Put Winning at Your Fingertips
™

Now with Fast Check-In Swipe Subbing! *
WE MAKE WAITING FOR GAME FILM BREAKDOWN OBSOLETE

—
The World's Most Advanced Live Scoring Software
Our Stats
TurboStats is

Used By
---
Teams
Live Scoring

Score with the best live scoring system on the market. We made scoring a live game easier than ever before. No need to spend hours analyzing your video
⚊

TurboStats breaks it all down for you live!
Check-in Substitutions
We made subbing a snap with our new check-in substitutions. Simply tag subs going into the game and replace current players with a swipe
⚊

it's a tremendous time saver!
Click to see the stats we track
Stats
Stats We Track
All reports are customizable and viewed as totals, per-game, and per-minute
(per min) only in ProSeries or higher
Offensive
(*) denotes advanced statistics TurboStats pioneered during our 25 years of research
Field Goals

Field Goal Attempts
Field Goals Made
Field Goal%
Last Second Shots
2-Point

2pt Attempts
2pt Made
2pt FG%
Unassisted 2FG*
3-Point

3pt Attempts
3pt Made
3pt FG%
Unassisted 3FG*
Free Throws

Free Throw Attempts
Free Throws Made
Free Throw%
Turnovers

Total
Traveling
Offensive Foul
Stolen From
Bad Pass
3 Seconds
Other
Fouls

Personal
Technical
User Defined
Rebounds

Total Rebounds
Offensive Rebound Rate
Available Rebounds*
True Reb%*
Assists/Points

Assists
Assists for 3FG*
Assists/Turnovers
Assists%
Total Points
High Score
Avg Points per last # games
Defensive
Individual

Steals
Blocks
Charges Drew
Tie-Ups
Rebounds

Rebounds
Available Rebounds
Reb% (actual/available)*
Total
Defensive Effort

Deflections
Stops
Dive for ball
Custom
Etc.
5 Player Combos

Group Minutes
Plus/Minus
Full Offensive Eff
Full Defensive Eff
Def Eff/Off Eff
17 Basic Stats
Defensive Points
Given Up

(Finally track bad defense)
(Split points or charge to one player)
Defensive Pts/Min
Plus/Minus (while in game)
Metrics
Offensive

Effective FG%
True Shooting
Off Eff
3pt Asts
OREB%, DREB%, TREB%
Rebounds/Actual Available Rebounds*
Actual Possessions Used*
Estimated Possessions Used
Unassisted Made Shots*
Offensive IQ*
Last Second Shots
Overall Rating

Efficiency (user customizable)
Efficiency per Minute
Offensive Efficiency
Defensive Efficiency
Pace
Team Points (includes % of assists)
Stats by Point Guard
Stats by Play Type
Stats by Defense
Possession Stats

Points per Possession
USAGE RATE
AST%
FGA%
TO%
True Turnover%*
FGA%
Advanced Features

—
Why Just Score When TurboStats Can Break Down Your Entire Game for You?
Shot Charts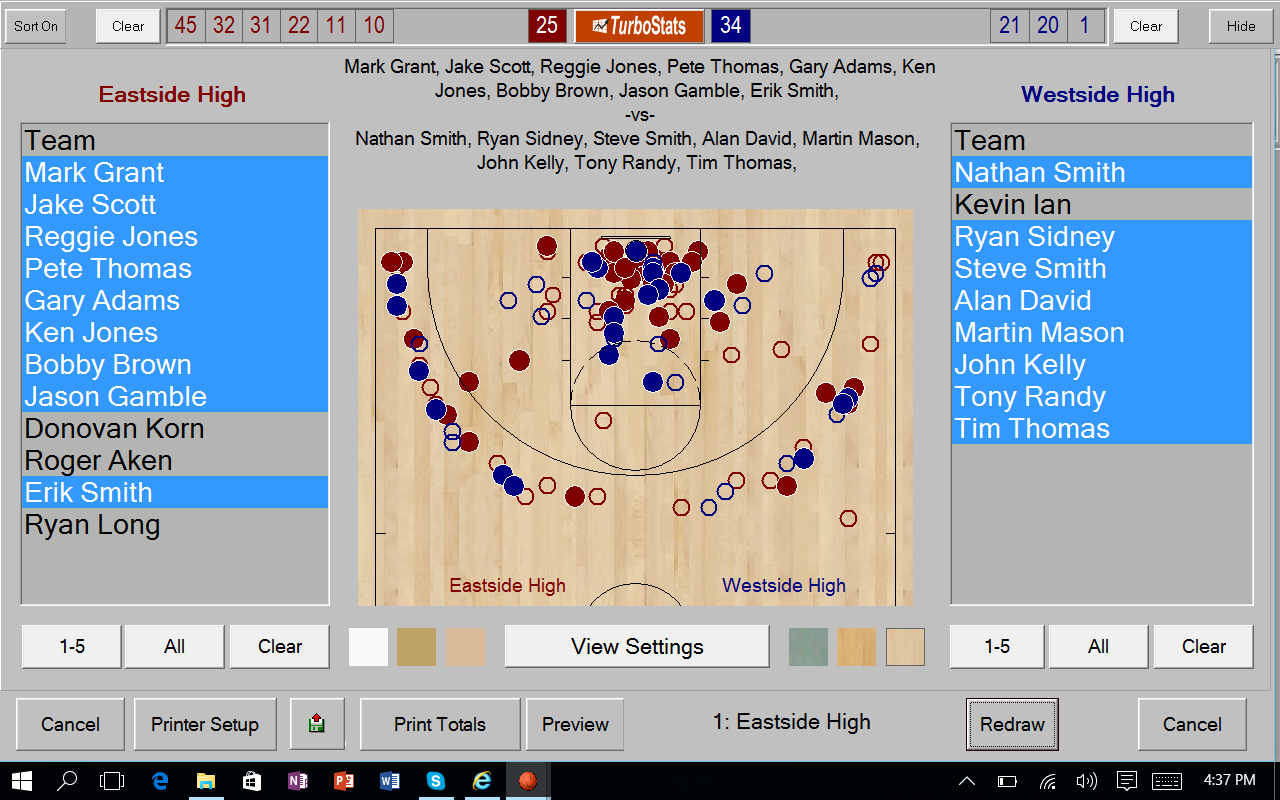 NEW! View/Print Shot Charts for Any Combination of Players on One or Both Teams.

View/Print Shot Charts for Each Player. Select any combination of game types, plays, opponents or individual games.
Score by Video/View Tagged Video Instantly!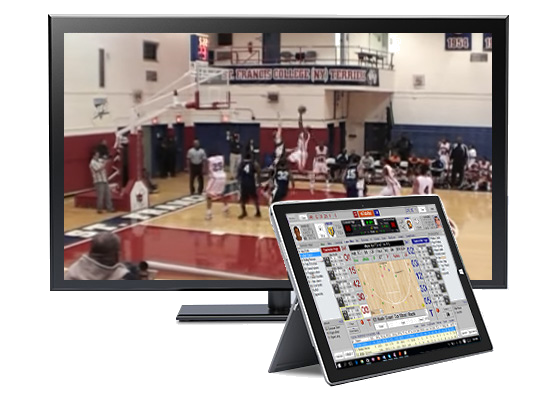 Why waste hours of time watching video to find what's not working when TurboStats can take you right to the clips? Sync the game video scored with your camera (one video per period) and view tagged video instantly. Focus your time on your lowest efficiency offensive plays, inbounds plays, turnovers and uncontested shots. Project video at halftime on a second monitor, TV or wireless display. Read more If you don't score live, import your video from your camera or Hudl and TurboStats will start, stop, and tag the video while you score. It's a great way to scout! You can also sort clips by event and produce training and highlight videos quickly with PowerDirector (optional). Mark special events as you score and save time looking for them later. Show less
Animated Playbook Diagramming Software

Create. Animate. Share.