| | |
| --- | --- |
| < Back | Setting Up a Wireless Hotspot and Using a Remote Desktop as a Secondary Display |
| | TurboStats Evolution 9.0g required. See [ Web Support/Updates ] in TurboStats Evolution to upgrade your existing 9.0 version |
This first step is for setting up a WiFi hotspot using your Window 7 PC or Tablet.
If you already have wireless network go to Step II
I. Setup your Windows 7 Wireless Host Network
Note: Remote Host only runs on most Windows 7 computers. Other version of Windows require a wireless network
to check if your Windows 7 computer supports WiFi hosting click here to run this test HostNet Supported?
1. In the Preferences Tab in Evolution 9.0g click on Start [WiFi Host Network]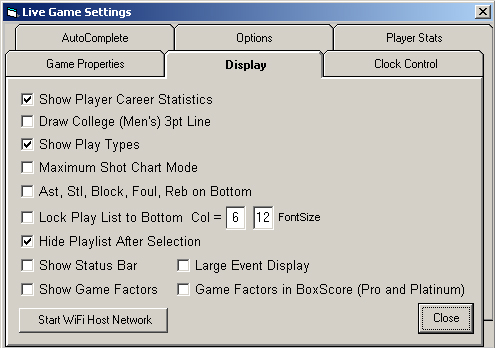 2. Press [Start WiFi Host Network] (If you don't have this option, press [Web Support/Update] in the TurboStats Main Menu to download the 9.0g version)
remember that when you are on a network, other users may be able to access your files based on your permissions. See the control panel do change permissions if necessary.
3. This will launch the program HostNet.exe
Enter your Host Name, Password and then Press [Start Host] To Launch.



(Note: if User Account Controls are turned on you have to set the file c:\basket\HostNet.exe to Run as Administrator by right clicking on HostNet.exe, choosing Properties >Compatibility
and check [x] Run this program as an Administrator ). Whenever HostNet starts you will be prompted with a User Account Control warning which you just click YES to continue.
If the Host is started correctly you will see Initializing... then the new Network in the Network and Sharing Center of the Control Panel.


Note: if your new Wireless Network Connection 2 does not appear. You must start c:\basket\HostNet.exe with RUN as ADMINISTRATOR or turn off UAC

If you don't have Windows 7 it won't create a new Network. You will need a wireless router for all other versions of Windows.
Connect your Media tablet or second PC to your new WiFi network

4. Tap the Wireless button on your secondary device (tablet or phone) and scan for wireless networks, when you see your network, select it and when prompted, enter the password you created. You now have a wireless network to go and your tablet or phone can connect with your Windows PC as long as they stay around 30-40 feet from each other
II. Setup Remote Desktop Streamer to Broadcast your Windows Desktop and TurboStats to secondary device for viewing and score assisting.
1. Download Splashtop Streamer on your Windows PC click here to download Streamer
2. Launch the Streamer (Start>Programs>Splashtop Remote> Splashtop Streamer)
3. Enter a Password for your Streamer Session (This can be different than the WiFi Password above)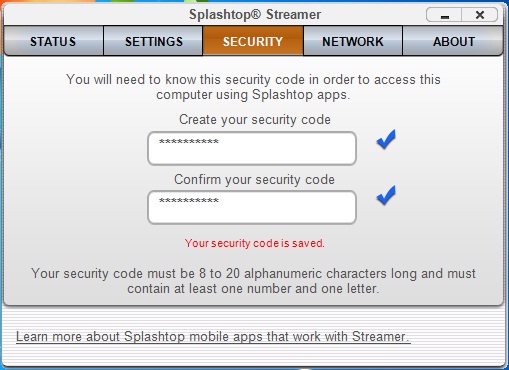 4. Install the Splashtop Remote Desktop App to your Tablet, Phone or second Windows Tablet click here to download remote desktop
5. Start the Splashtop Remote Desktop App on your Tablet
6. Click the far right Arrow and pick Advanced and set the Resolution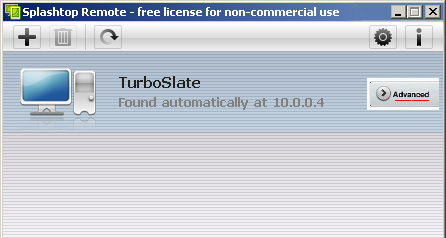 If you will be scoring on the Host PC then
set the Splashtop Remote Desktop Screen Resolution to Native
(otherwise the video on the host can stretch)

7. Select the Network PC running the Streamer. In this example TurboSlate and your Tablet/Phone Display will mirror the PC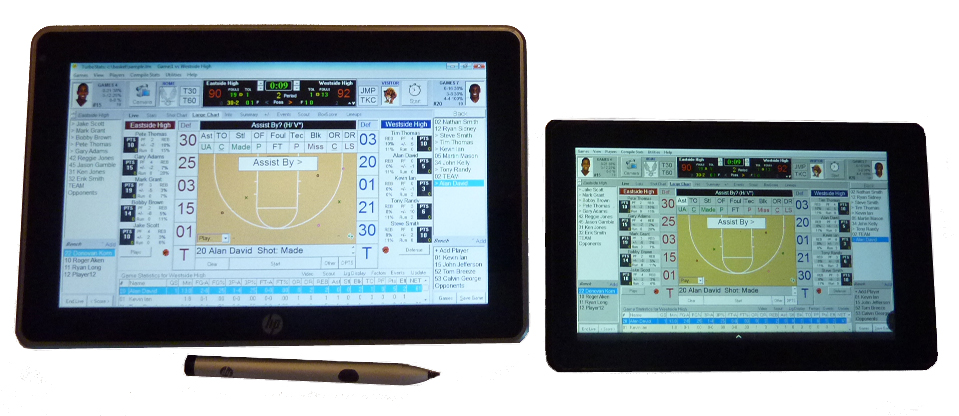 We tested Splashtop for the Amazon Kindle viewing the display of an HP Slate, Sony Laptop and Fujitsu Q550 Tablet and we were impressed with the video results.
Using a capacitive stylus with rubber tip worked a lot better than using your finger, however it was still not nearly as responsive then our digital pen or mouse on the PC.
We recommend this configuration as a method to display stats or assist the main scorekeeper in scoring.
Splash provides a Free Remote Desktop app you can use to connect two HP Slates or similar Tablets.