TurboStats for Volleyball 2.0
New Version 2.0 with Rally Point Scoring

Imagine being able to track your player's statistics by game, rotation and attacks (plays) easily during a live match. Then imagine being able to analyze that data instantly and create graphical analysis during the match. Graphs that will help the coach make important decisions. Decisions that can be use to help your team WIN MORE GAMES. Now imagine getting all this for less than one hundred dollars !

Announcing TurboStats 2.0 for Volleyball with complete statistic tracking by Game, Rotation, and up to 25 different Attacks Plays. (Rotation and attack tracking are optional in the ProSeries version). Create unlimited matches, add players to games and just point and click to add player statistics. Enter games in only a few minutes directly from your scoresheets or turn on Game Mode Scoring and track the game play by play. including complete opponent's stats.

I've used many stat programs over the years and your volleyball stat program has been the best." - Mike Vogel, TurboStats user for 5 years.

Try version 1.0 and you get version 2.0 with Rally Point Scoring when you order.

for additional download sites visit our Downloads Page

Sample Screens

Track Unlimited Teams

Up to 100 Players per team
Store names, address, phone numbers, uniform number, grade, age, height, and player notes
Autodial phone numbers
Import names from other file formats
Unlimited notes for any player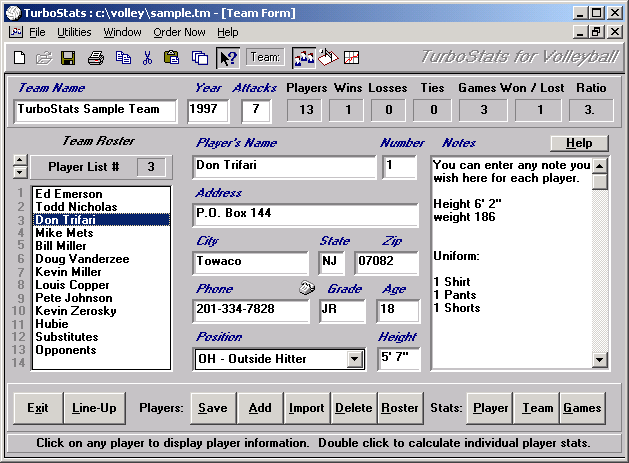 Drag n Drop Court Layout Screen

print lineup cards
almost an unlimited number of alignments to choose from
store 10 different layouts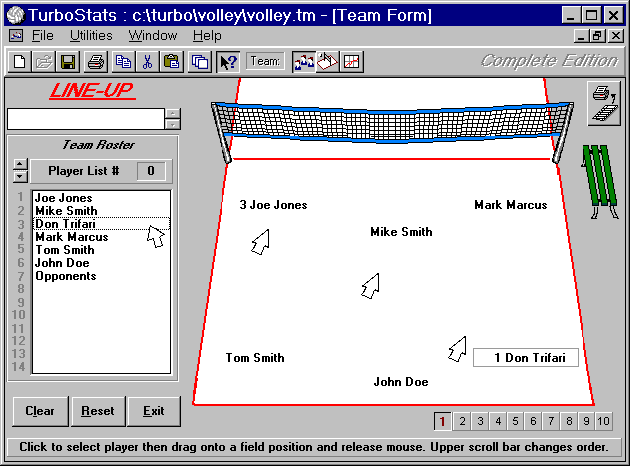 ---

Enter Unlimited Matches
Use during or after the games
Game Mode Scoring automatically updates scores, rotations and allows one click scoring
Set the number of Attack types to track from 1 to 25
Point and Click data entry ( or use keyboard )
Break down games by Season, Playoff, Tournament, Etc. ( create your own types )
Track Stats by :

Player
Match
Game
Rotation ( Pro Version Only )
Attack. ( Pro Version Only )

Plot Stats during play
Enter notes for any match
Plus much more....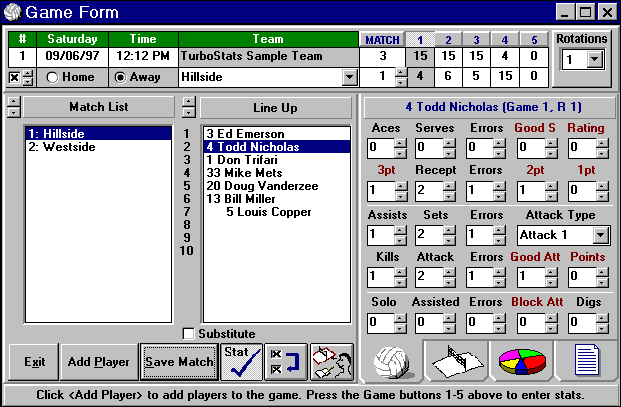 Select Match > Player > Game > Rotation > Attack ( note: 8 Stats tracked by Attack & Rotation, 22 by Rotation, 12 by Game only ) All Rotations/ All Attacks available for display.

During Live Game Mode you just have to select a player and click anywhere in the stat boxes to increment the stats by 1.

During Live Game Mode you can select the attack type using your left hand on the keyboard while your right hand works the mouse

Click on the tabs to change from Offensive, Game, Stat Summary, and Game Information
View Statistics During Data Entry or After the Match
| | |
| --- | --- |
| Select any statistical category to plot by Game, Rotation or Attack. | 2D/3D Pie, Bar, Line Graphs Available |
| | |
| --- | --- |
| Select Game, Rotations, Attacks with one mouse click | Track, Plot and Rename up to 25 different attack types. View All Attacks with one click |
View, Sort and Plot over 50 Statistics
Plot any stat with one click
Sort by any category
Set your stat order
Fully customized stat headings and report titles
Print using any Windows font
Player, Team, Game, & League Reports
Match, Game, Rotation and Attack Breakdowns Available
Plus much more....
Click Here to try VERSION 1.0J you get version 2.0 with rally point scoring when you order

for additional download sites visit our Downloads Page

Minimum System Requirements: Windows 95, 98, NT, ME, XP. 4 MB minimum 8 MB recommended memory. 2 MB free disk space.
Runs in Windows 7 with XP Mode Software from Microsoft which is free with the Pro or Enterprise versions of Windows. Click here for XP Mode

List Price

$69.95 Standard Version( Tracks by Game and Matches )

$99.95 ProSeries (same as above plus Tracks Stats by Rotation and Attack Types)
Save money by ordering electronically (see Electronic Order Form )

How to Order: All TurboStats Software comes with a 60 Day Money Back Guarantee.

4 Ways to order

1. Call us at 1-800-60 STATS ( 800-607-8287) in the USA or at 1-973-334-7828 .

2. Secure! Electronic Order Form

3. Fax us at 973-334-9566 (School PO's accepted)

4. Mail your name, address, phone # and check, or money order (drawn on a US bank) to

TurboStats Software - P.O. Box 144, Towaco, NJ 07082

AMEX & DISCOVER

Questions ? Contact support@turbostats.com

Copyright (C) 1997-2004 TurboStats Software Company